Overview
7-Day Druk Excursion is a tour package designed for visitors to explore the western hinterlands of Bhutan. The journey takes you across the major western districts of Paro, Thimphu and Punakha and you will be led through abundant natural beauty, exquisite hill slopes, and iconic Buddhist monasteries and temple.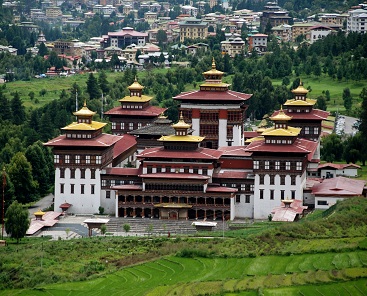 Accommodation (twin sharing basis) in Tourism Council of Bhutan (TCB) certified 3 star hotels
All meals
All internal transport in a SUV or Mini Bus
A licensed tour guide and a driver during the tour
Entrance fees and activities as per itinerary
All taxes and charges
Government Sustainable Development Fee (SDF) of US $ 65 per night
One time visa processing fee of US $ 40
All drinks, laundry and items of a personal nature
Tips and gratuities
Flight tickets
Insurance
Upon cancelation of the tour after booking, the following charges apply:
     Cancelled 40+ days prior to arrival date in Bhutan            – Full Refund
     Cancelled 35-39 days prior to arrival date in Bhutan         – 50% Refund
     Cancelled 30-34 days prior to arrival date in Bhutan         – 25% Refund
     Cancelled within 30 days prior to arrival date in Bhutan    – No Refund
Day 1
Day 2
Day 3
Day 4
Day 5
Day 6
Day 7
Day 1: Paro to Thimphu
You will be received at the Paro international airport by our guide and will proceed to visit:
Paro Rinpung Dzong:A fortress consecrated in 1646 as the administrative and monastic centre of the western Bhutan.
Paro Ta Dzong:The National Museum of Bhutan that exhibits collection of ancient Bhutanese art and artifacts like traditional costumes, weapons and handcrafts.
Then drive towards Thimphu, the capital city of Bhutan (approx. 1 hr, 20 mins drive). Night halt at Thimphu.
Day 2: Thimphu Sightseeing
National Memorial Chorten (temple): The iconic monument constructed in the loving memory of our late third king of Bhutan, Jigme Dorji Wangchuck.
Dordenma statue in Kuenselphodrang:One of the tallest structures of Shakyamuni Buddha called Dordenma, is made of bronze and gilded in gold, measuring 169 ft (51.4 meters) tall, It overlooks Thimphu city.
Mothithang Takin Preserve: Wildlife reserve area for Takin, the national animal of Bhutan found only in the eastern Himalayas.
Zorig Chusum : The traditional school of 13 Bhutanese arts and crafts where you will witness students learning in their classes.
Tashichhodzong: It houses the throne room, King's office and many vital government agencies.
Night halt at Thimphu.
Day 3: Thimphu Sightseeing
In the morning drive to visit the following:
Changangkha Lhakhang (Temple): A 12thcentury monastery is often flocked by people for blessings from the protective deity Tamdrin.
Jungshi paper factory: Witness the traditional art form of paper making.
Zilukha Nunnery: It was built in 1976 by the 16th emanation of Thangtong Gyalpo, Drubthob Rikey Jadrel. It is a short drive from the city.
Centenary Farmers Market: (Open on Friday, Saturday and Sunday)
Centenary and Coronation Park: The Coronation and Centenary Park was built to honour our new king and also has a walking Buddha statue standing at a height of 45ft.
Night halt at Thimphu.
Day 4: Thimphu to Punakha
In the morning drive to Punakha (approx. 2 hrs, 30 mins drive) and stop on the way at
108 Druk Wangyal chortensin Dochula: At a height of 3100 meters the majestic elevation is a perfect point to capture panoramic view of the silhouettes of distant dark ridges and snowcapped Himalayan mountain ranges.                                                                                                  
Chhimi Lhakhang (temple) :Built in 1499 by Ngawang Chogyal. You will learn about Drukpa Kuenley the 'Divine Madman' whose unorthodox practice of Buddhism advocated use of wooden Phallus to drive away evil spirits.
Punakha Dzong: It isone of the most beautiful and majestic dzongs (fortress) built by Zhabdrung Ngawang Namgyal in 1637 at the confluence of two significant rivers, Pho Chhu (male river) and Mo Chhu (female rivers).                   
Overnight stay at Punakha.
Day 5: Punakha to Paro
Drive to Paro (approx. 3 hrs, 45 mins drive) and proceed to visit:
Drukgyel Dzong : Built in 1649 at the behest of Zhabdrung Ngawang Namgyalto commemorate victory over an invasion from Tibet.
Kyichu Lhakhang : You will visit Kyichu Lhakhang, which was built in 7thcentury by Buddhist Tibetan King Songtsen Gampo.
Paro International Airport (bird's eye view)
Night halt at Paro.
 Day 6: Tiger's Nest Hike
Taktsang the Tiger's Nest:Taktsang literally means 'Tiger's Nest' is perched amazingly on a rocky cliff at 3120 meters above sea level. It is believed to be thecave where Guru Padmasambhava flew on a tigress's back and meditated for years to subdue evil demons. It is a hike of 2-3 hours uphill to the monastery and is irresistibly gratifying with incredible view and will leave a lasting impression of your journey to Bhutan.
Overnight at Paro.
Day 7: Depart from Paro
Our tour guide will reach you to the airport for your departure to onward destination.
Thank you for visiting. Good Bye.